Bristol Caverns General Tour Information
Bristol Caverns is one of the oldest and most beautiful attractions in northeast Tennessee and has thrived as one of Bristol's most visited tourist attractions. A modern system of concealed, indirect lighting highlights the natural colors and beauty of the formations for your enjoyment. The tours itself takes you to all three levels of the caverns - from Mayor Preston's Chamber in the upper section to the winding banks of the Underground River 180 feet below on the cavern floor. Along the Underground River, you will be dazzled by dramatical displays of formations reflected in the streams waters. You can also peer over Lover's Leap, view the breathtaking Bridal Veil formation and stare in wonder at the dazzling formations of Entrance Hall. Don't forget to bring your camera!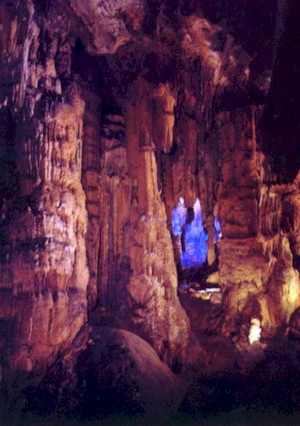 Open Year Round
March 15 - October 31
9:00 AM - 5:00 PM
12:30 PM - 5:00 PM

---
November 1 - March 14
10:00 AM - 4:00 PM
12:30 PM - 4:00 PM

Open daily year round EXCEPT Easter Sunday, Thanksgiving, Christmas Eve, and Christmas Day
Call for Pricing
Guide tours leave from gift shop about every 20 minutes. Tour lasts approximately 1 hour.
Prices and hours are subject to change without notice.